Mini Dream Catcher
Regular price
Sale price
$5.00 USD
Unit price
per
Sale
Sold out
Dream catchers are considered a symbol of oneness among numerous indigenous cultures and regions. It is also seen to be a general indication of Native American identity. In a different perspective, some Native Americans see dream catchers to be misused and offensively exploited by non-Native Americans.
History & Origin of the Dream Catcher
It is believed that dream catchers originated with Asibaikaashi who was known as the Spider Woman. She was a custodian of all the infants and the adults. It became a difficult task for her to take enough care of all the Ojibwe people as they started spreading geographically even to the hooks and crannies of North America.
The women were in charge of weaving the magical webs for the infants. The women made this possible by using willow hoops and sinew to weave the webs. The children were provided with charms as a medium of protection. These charms were idealized to catch any sort of harm that might be present around that place or time.
Dream Catcher Meaning
Each part of the dream catcher had meanings tied to the physical world. One notable meaning is the dream catcher has a round shape that represents the earth's physical shape.
The web absorbs terrible dreams at night and discharges them during the day. The feathers act like ladders allowing good dreams to descend on the infant or adult who is sleeping.
• Approximately 1" diameter
• Color varies (red, black, white, brown, blue)
Better photos coming soon!
Share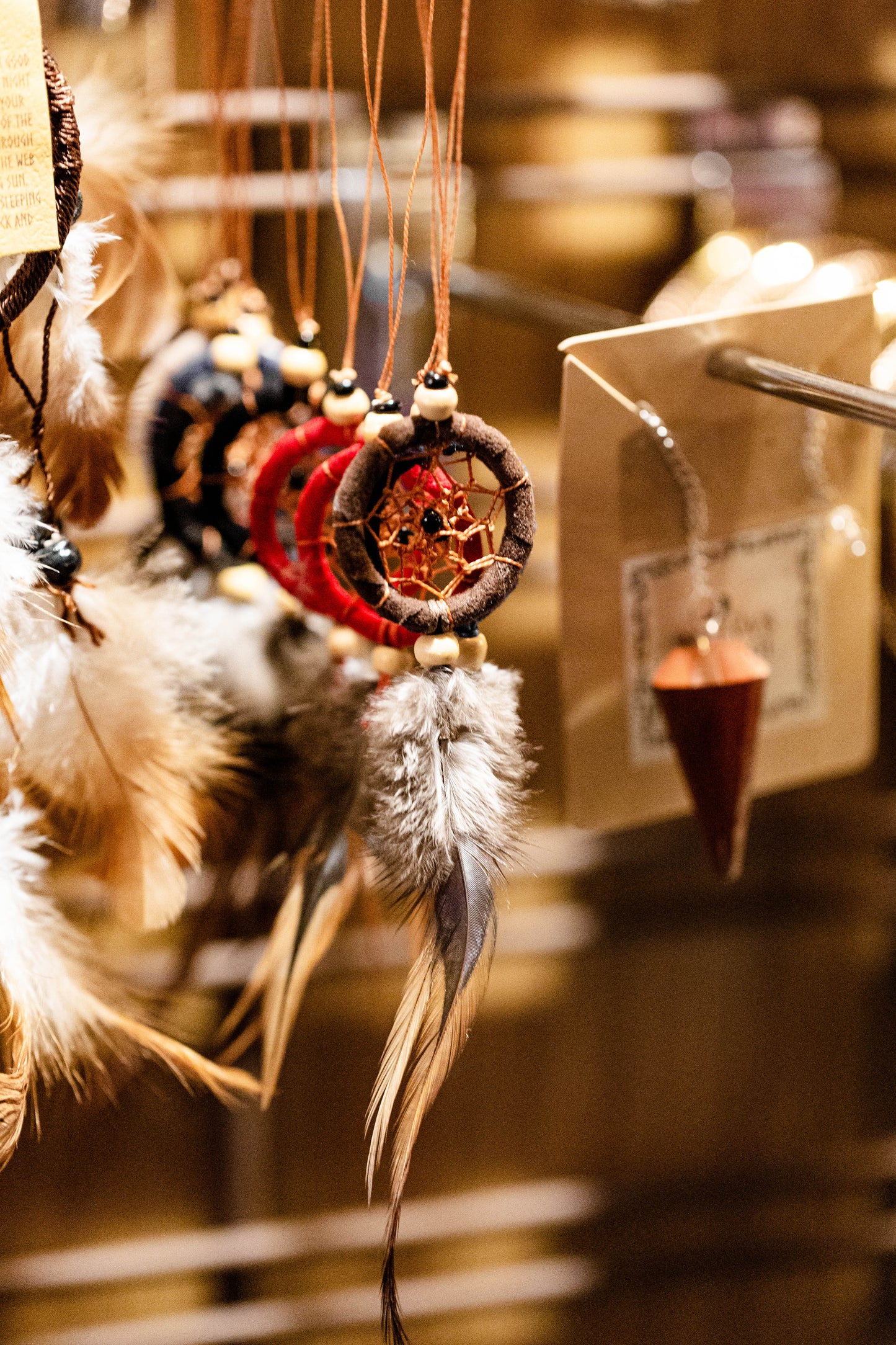 Shipping and Pick-Up Options

Select from affordable carbon-neutral shipping options or select free in-store pickup at our Woonsocket location. If you select pickup, an email will be sent to you when your order is ready for pickup. Pickup is available any time during normal business hours.

Make A Difference With Your Order

For every order over $20, we will donate enough to plant one tree through our partnership with a great organization. You can also choose to plant a tree with any order for only $1 at checkout through our other partnership.