Dalmatian Jasper (Tumbled)
Regular price
Sale price
$1.00 USD
Unit price
per
Sale
Sold out
♥ Relaxation ♥ Contentment ♥ Compassion ♥ Nurturing ♥ Consolation ♥ Tranquility ♥ Healing ♥ Completion
Jasper is a variety of Chalcedony, which is a microcrystalline variety of Quartz.
Zodiac - Leo, Virgo, Scorpio
Planet - Mars
Element - Fire
Vibration - Number 6
Typical colors - brown, red, orange, yellow, green
Jasper is known as the "supreme nurturer".  It sustains and supports through times of stress, and brings tranquility and wholeness.  Jasper provides protection and absorbs negative energy.  It balances yin and yang.  Jasper clears electromagnetic and environmental pollution, including radiation.  It encourages honesty with one's self.  Provides courage to assertively tackle problems.  Aids quick-thinking and promotes organizational abilities.  Jasper stimulates the imagination and transforms ideas into action.  Prolongs sexual pleasure.  It supports during prolonged illness and re-energizes the body.
In addition to the generic healing properties of Jasper, specific colors and forms have additional attributes:
Dalmation Jasper
Chakras - Base Chakra
Zodiac - Virgo
Planet - Earth
Typical colors - light brown with black spots
Dalmation Jasper, also known as "Dalmation Stone", is a grounding stone, in terms of with the Earth and in reality.  It removes disillusionment, helping one to see their strengths and weaknesses more clearly.  Dalmation Jasper brings a sense of fun to one's life and helps to increase loyalty in relationships.  It purifies the blood and boosts the immune system.

The determination within Dalmatian Stone encourages one to carefully think over plans for any project, reflecting on every phase of development, and then to translate the ideas into actuality with enthusiasm and vigor. It is an excellent talisman for the early stages of setting up a business or solo venture.  An excellent anti-smoking crystal, Dalmatian Stone strengthens the resolve to quit smoking and provides the determination needed to succeed. Dalmatian Stone encourages fidelity and emotional harmony, strengthening family bonds and long-term friendships. It encourages team effort and cooperation at work. Children benefit on all levels from this beautiful stone, particularly at night to assure safe sleep and in preventing dreams of monsters and other nightmares. Dalmatian Stone is remarkably successful for calming, training, and healing pets, especially dogs. It is the perfect crystal to assist in turning your love of dogs into a profession, such as a trainer or a handler in any field, and for those who rescue injured or abandoned animals. It also assists in the ability to overcome an irrational fear of dogs.  It supports the body's physical balance and is a great stone for those who engage in the martial arts. Its ability to balance yin-yang energy helps one capture the essence of this art for good health and well-being. 
Each stone is approx. 3/4" to 1"

Imported from South Africa
Disclaimer: Sold as a Curio. For external use only. Not for consumption. These statements have not been evaluated by the Food and Drug Administration. This product is not intended to diagnose, treat, cure or prevent any disease. 

 
Share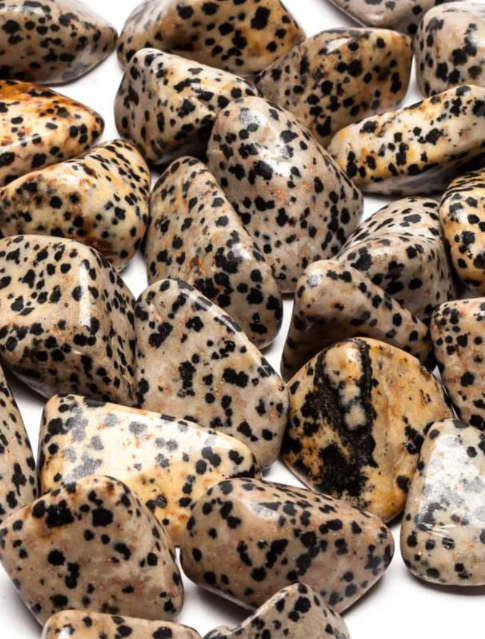 Shipping, Pick-Up, and Local Delivery

Select from affordable carbon-neutral shipping options, local same-day delivery for Woonsocket, RI and Blackstone, MA residents, or select free in-store pickup at our Park Ave location. If you select pickup, an email will be sent to you when your order is ready for pickup. Pickup is available any time during normal business hours.

Make A Difference With Your Order

For every order over $20, we will plant 1 tree through our partnership with Sprout. For every PRIDE product purchase, we will donate 100% of its proceeds to Youth Pride RI, Inc. For every Supports Africa product, we will donate 100% of the proceeds to the children of Kenya through Humanium. For every Wolf Fur purchase, we will donate 50% of proceeds to the Southern Ohio Wolf Sanctuary.
Sprout Total Count Banner Will Appear Here After Save