Fluorite (Raw)
Regular price
Sale price
$3.00 USD
Unit price
per
Sale
Sold out
♥ Truth ♥ Consciousness ♥ Aura cleansing ♥ Intellect ♥ Protection
Energy: Projective
Astrological Signs: Pisces, Capricorn
Powers: provides protection, protects on a psychic level, helps one to discern when outside influences are at work within yourself and shuts off psychic manipulation/undue mental influence, cleanses and stabilizes the aura, effective against computer and electromagnetic stress, draws off negative energies and stress of all kinds, cleanses/purifies/dispels, and reorganizes anything within the body that is not in perfect order, BEST crystal to overcome any form of disorganization, grounds and integrated spiritual energies, promotes unbiased impartiality and heightens intuitive powers, quickens spiritual awakening, focuses the mind and links it into the universal mind, brings stability to groups by linking them to a common purpose, helps one overcome chaos, dissolves patterns of psychologically fixed patterns of behavior and gently opens the door to the subconscious (bringing suppressed feelings to the surface for resolution), increases self-confidence and dexterity, improves physical and mental coordination and counteracts mental disorders, dissolves illusions and reveals truth, excellent learning aid (helps absorb new information and promote quick thinking)
Chakras - Heart Chakra, Throat Chakra, Third Eye Chakra
Zodiac - Capricorn, Pisces
Element - Air, Water
Vibration - Number 7
Typical colours - Colourless, white, purple, blue, blue-green, green, yellow, brownish-yellow, pink or red.
Fluorite cleanses and stabilises the aura.  It absorbs and neutralises negative energy and stress.  An excellent learning aid, Fluorite increases our powers of concentration, self-confidence and helps us in decision-making.  It encourages positivity, balances the energies, and improves balance and coordination, both physically and mentally.
In addition to the generic healing properties of Fluorite, specific colours have additional attributes:
Blue Fluorite
Chakra - Throat Chakra
Vibration - Number 2
Blue Fluorite calms the emotions and stimulates clear communication.
Green Fluorite
Chakra - Heart Chakra
Vibration - Number 2
Green Fluorite can bring hormones into balance.  It harmonises and recharges all chakras.
Purple Fluorite
Chakra - Third Eye Chakra
Vibration - Master Number 77
Purple Fluorite increases mystic visions and aids spiritual balance.  It helps the intuition to connect to the rational mind.
Each stone is approx. 1"

Imported from Brazil
Disclaimer: These statements have not been evaluated by the Food and Drug Administration. This product is not intended to diagnose, treat, cure or prevent any disease. 
Sold as a Curio. For external use only.

 Not for consumption. 
Share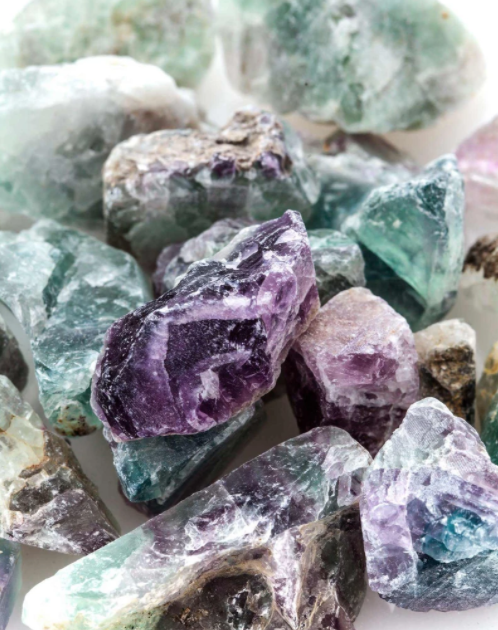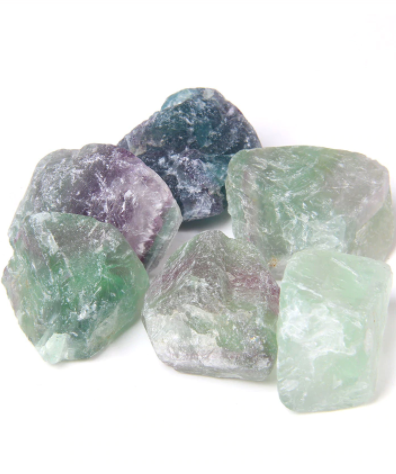 Shipping and Pick-Up Options

Select from affordable carbon-neutral shipping options or select free in-store pickup at our Woonsocket location. If you select pickup, an email will be sent to you when your order is ready for pickup. Pickup is available any time during normal business hours.

Make A Difference With Your Order

For every order over $20, we will donate enough to plant one tree through our partnership with a great organization. You can also choose to plant a tree with any order for only $1 at checkout through our other partnership.