Indigo Gabbro "Merlinite/Mystic Merlinite" (Tumbled)
Regular price
$4.00 USD
Sale price
$3.00 USD
Unit price
per
Sale
Sold out
♥ Magick ♥ Intuition ♥ Spirit Communication ♥ Past-Life Recall ♥ Psychic Openings ♥ Shamanic Work ♥ Shadow Work/Integration ♥ Elemental Energies Connection ♥ Divination ♥ Aid in Learning Magick/Occult Studies
Elements: Fire, Earth
Primary Chakra: Root, Third Eye
Secondary Chakra: Crown
Astrological Sign: Gemini, Libra, Scorpio, Pisces
Numerical Vibration:
Sacred Number: 6, 33, 333
Color: light indigo purple to black
Location: Madagascar


It aids one in seeing through the veil of the visible and invisible worlds, and in turn, allows one to develop intuitive and psychic abilities. Such abilities include Clairvoyance, Clairaudience, Clairsentience, and Prophetic Vision, as well as recalling previous knowledge and talents from past lives. It awakens the dormant parts of the mind, bringing them together as a whole and activating the mind's full potential. This also enhances one's abilities to speak to the spirits of plants, animals, and other entities in the spirit realm. Although it is a stone of fire and earth, Mystic Merlinite is strongly linked with the energies of all the elements, and aids one in using these energies for magical manifestation and awakening to the knowledge of one's true self.
Although it has a wide range of properties, one of Mystic Merlinite's strongest abilities is to bring a full understanding of both our light and shadow sides. It brings one to their inner core where the light and darkness are fully visible (similarly to the stone's colors) and one can see the current state of both sides. The purpose of this is to bring the parts of the self that are exiled or shrouded in darkness into the light of the heart, so that one may achieve harmony with both sides. During this process, one must embrace these negative qualities with love and acceptance, and forgive oneself for the very things you may be wishing to forget. The lessons learned from the shadow side can lead one to a completely new direction in life, allowing one to truly appreciate all other beings and find meaning in each moment of life. The energy that pulses from Mystic Merlinite guides us through this process which aids in repairing fragmentation of the self, and leads to true self-realization.
A volcanic stone from Madagascar. Indigo Gabbro is a plutonic rock that forms deep in the Earth's and Oceanic crusts from high pressure and cooled magma throughout the stone are irregular shaped areas of black Pyroxene surrounding gorgeous green centers of Olivine; there are flashes of shimmering Muscovite mica throughout the stone. Star People!

Indigo Gabbro's energy literally grabs you and pulls you down towards the Earth, helping you to focus and overcome distractions. Also called Merlinite or mystical merlinite, it is a magical, intuitive and spiritual stone. An Indigo Gabbro stone is one of the most beneficial stones for meditation and connecting to the spiritual realm. It is often the preferred stone among healers and psychics because the merlinite meaning is unifying the spiritual world with life on earth.

The Indigo Gabbro, or merlinite meaning awakens an understanding of your spiritual gifts and intuitive abilities. One of the most interesting gabbro uses is expanding knowledge and insight. It is believed that using a merlinite stone attracts teachers, visitors or other clear messages into your dreams and meditations, making it an excellent stone for intuitive learning and connecting with higher consciousness.

Indigo gabbro metaphysical properties are also said to help with past life regression. That is why it is a popular stone among psychics, shamans, and Reiki healers. It is believed to connect you with your past lives in dreams or deep meditations. This stone brings foreword the past experiences that are most relevant to your needs for healing and growth.

On a more subtle level, merlinite crystal is also used for unveiling the darkest aspects of you. It forces you to recall past memories and patterns that you've kept hidden. The merlinite meaning is to expose those dark aspects of yourself and how they've contributed to your deepest motivations. It also helps you see how your darkest self intertwines with your highest self, forming the ideal image in which you were created. Indigo gabbro heals the darkness within us and allows us to act with a higher purpose.

The merlinite meaning is wisdom and that the greatest beauty of life resides in darkness and mystery. Indigo gabbro develops patience. It helps you realize that your desires don't always equal your needs, but that the universe will provide you with the experiences, people and lessons you need.

Place a merlinite stone on your root chakra and at the crown chakra integrate the merlinite properties of the spiritual and earthy worlds.

Imported from Madagascar
Disclaimer: These statements have not been evaluated by the Food and Drug Administration. This product is not intended to diagnose, treat, cure or prevent any disease. 
Sold as a Curio. For external use only.

 Not for consumption. 
Share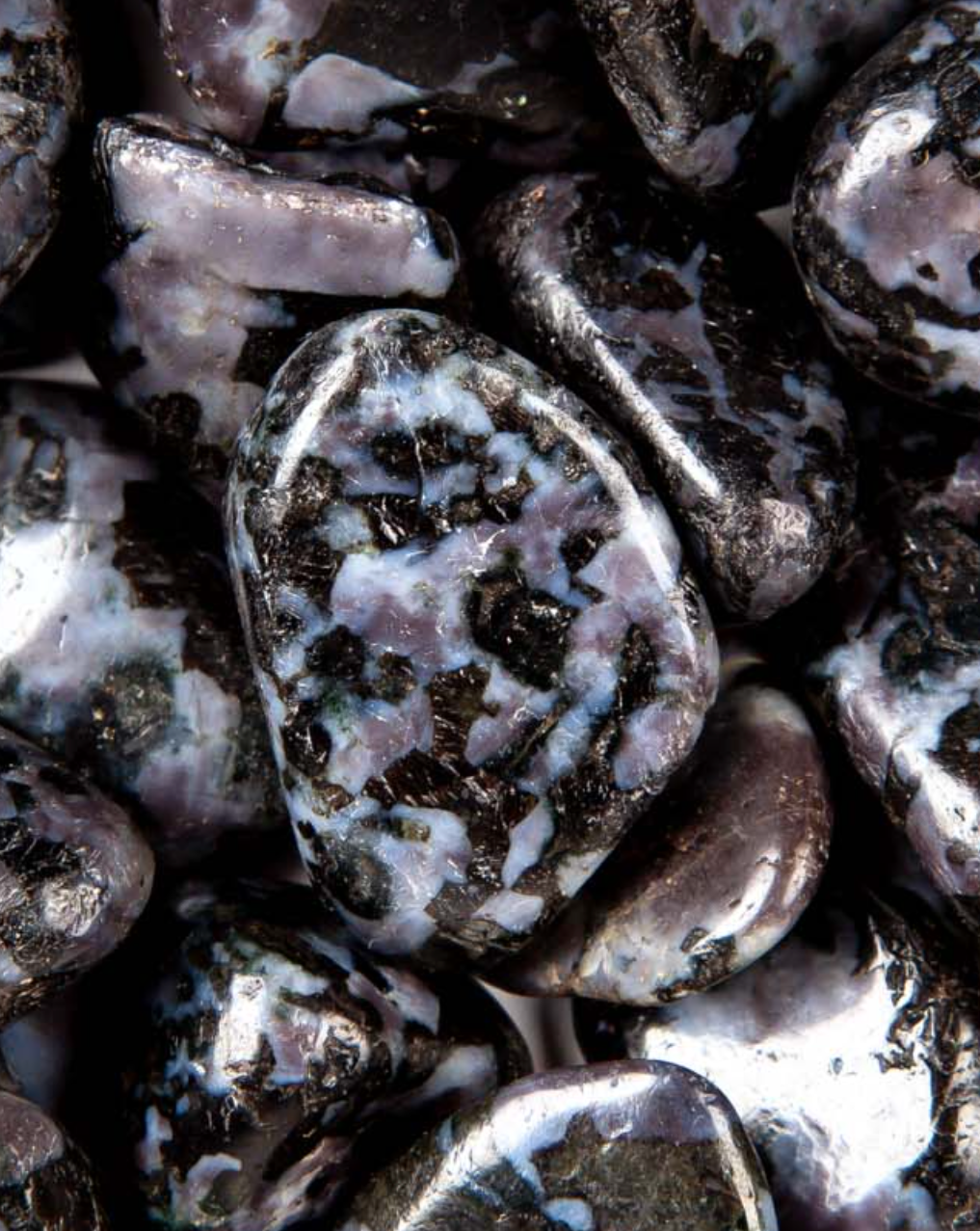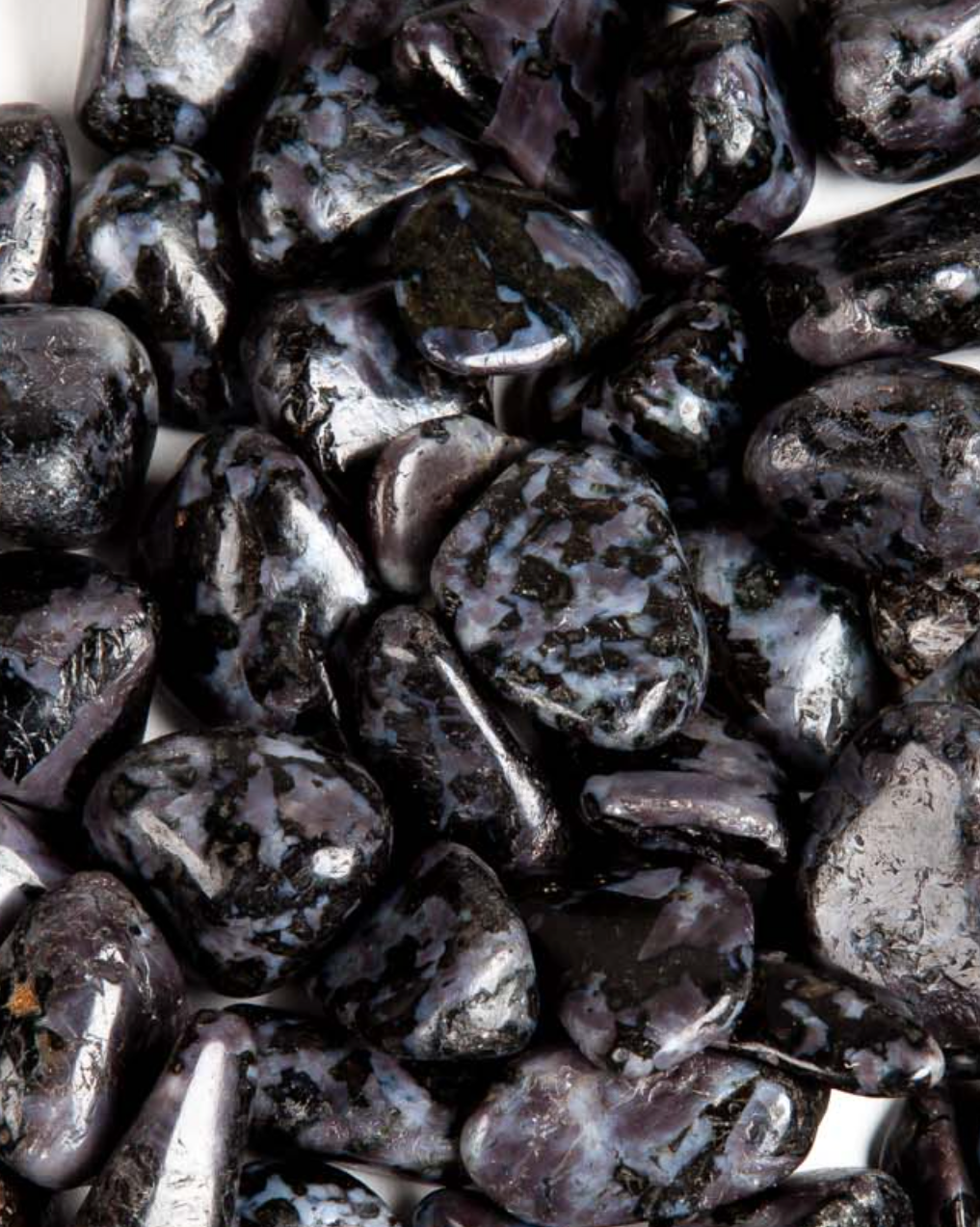 Shipping and Pick-Up Options

Select from affordable carbon-neutral shipping options or select free in-store pickup at our Woonsocket location. If you select pickup, an email will be sent to you when your order is ready for pickup. Pickup is available any time during normal business hours.

Make A Difference With Your Order

For every order over $20, we will donate enough to plant one tree through our partnership with a great organization. You can also choose to plant a tree with any order for only $1 at checkout through our other partnership.