Leopard Jasper (Tumbled)
Regular price
$3.00 USD
Sale price
$2.00 USD
Unit price
per
Sale
Sold out

♥ Relaxation ♥ Contentment ♥ Compassion ♥ Nurturing ♥ Consolation ♥ Tranquility ♥ Healing ♥ Completion
Jasper is a variety of Chalcedony, which is a microcrystalline variety of Quartz.
Zodiac - Leo, Virgo, Scorpio
Planet - Mars
Element - Fire
Vibration - Number 6
Typical colors - brown, red, orange, yellow, green
Jasper is known as the "supreme nurturer".  It sustains and supports through times of stress, and brings tranquility and wholeness.  Jasper provides protection and absorbs negative energy.  It balances yin and yang.  Jasper clears electromagnetic and environmental pollution, including radiation.  It encourages honesty with one's self.  Provides courage to assertively tackle problems.  Aids quick-thinking and promotes organizational abilities.  Jasper stimulates the imagination and transforms ideas into action.  Prolongs sexual pleasure.  It supports during prolonged illness and re-energizes the body.
In addition to the generic healing properties of Jasper, specific colors and forms have additional attributes:
Leopard Jasper
Chakras - Base Chakra, Heart Chakra, Crown Chakra
Zodiac - Gemini
Element - Earth
Leopard Jasper helps you to connect with your spiritual animal totem.  It is associated with spiritual discovery and shaman travel.  It assists in self-healing.  Leopard Jasper is helpful in eliminating toxins from the body and decreasing body odour.
Approx. 3/4" to 1.5" per stone

Imported from South Africa
Disclaimer: These statements have not been evaluated by the Food and Drug Administration. This product is not intended to diagnose, treat, cure or prevent any disease. 
Sold as a Curio. For external use only.

 Not for consumption. 
Share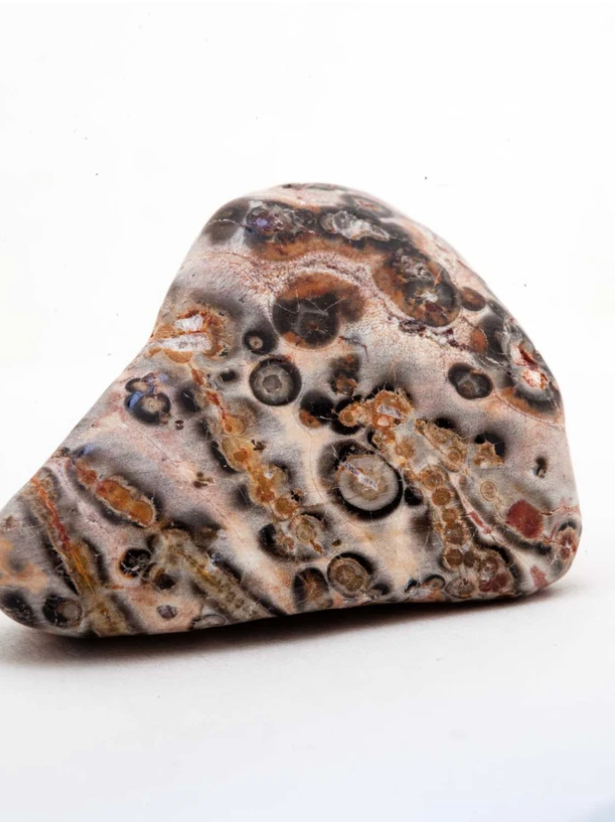 Shipping and Pick-Up Options

Select from affordable carbon-neutral shipping options or select free in-store pickup at our Woonsocket location. If you select pickup, an email will be sent to you when your order is ready for pickup. Pickup is available any time during normal business hours.

Make A Difference With Your Order

For every order over $20, we will donate enough to plant one tree through our partnership with a great organization. You can also choose to plant a tree with any order for only $1 at checkout through our other partnership.