Lepidolite (Tumbled)
Regular price
$3.00 USD
Sale price
$2.00 USD
Unit price
per
Sale
Sold out
♥ Transition ♥ Awareness ♥ Emotional Balance ♥ Meditation ♥ Prayer ♥ Goodness
Lepidolite is a mineral of the Mica group.
Chakras - Third Eye Chakra, Crown Chakra
Zodiac - Libra
Vibration - Number 8
Typical colours - Lilac, rose-violet
A "stone of transition", Lepidolite assists in the release and reorganization of old behavioural and psychological patterns, gently inducing change.  It brings deep emotional healing, soothing, and reducing stress and depression.  Lepidolite dissipates negativity and insists on being used for the highest good.  It activates the throat, heart, third eye chakras, and the intellect.  It opens the crown chakra, clearing blockages and bringing cosmic awareness.  Lepidolite facilitates astral travel and accesses the Akashic Record.  It helps to take you forward into the future, tuning you into thoughts and feelings from other lives that are creating a blockage in your life now.
Lepidolite aids in overcoming any kind of emotional or mental dependency, supporting the release of addictions and complaints of all kinds, including anorexia.  It encourages independence and self-love and trust.  Lepidolite combines its power of objectivity with direction and unimpeded communication, focusing on what is important and making it an excellent stone for business pursuits.
Lepidolite clears electromagnetic pollution.  Strengthens the immune system, soothes the nervous system, and can be used to restructure DNA.  Lepidolite relieves exhaustion and aids in the relief of tension and related disorders.  It can relieve allergies and greatly help with epilepsy and Alzheimers.  It numbs sciatica and neuralgia and overcomes joint problems.  Lepidolite is said to stabilize mood swings and is excellent for menopause.  It may treat illnesses caused by "sick-building syndrome" or computer stress.  Excellent for bipolar disorders.
Each stone is approx. 3/4" to 1"

Imported from South Africa
Disclaimer: These statements have not been evaluated by the Food and Drug Administration. This product is not intended to diagnose, treat, cure or prevent any disease. 
Sold as a Curio. For external use only.

 Not for consumption. 
Share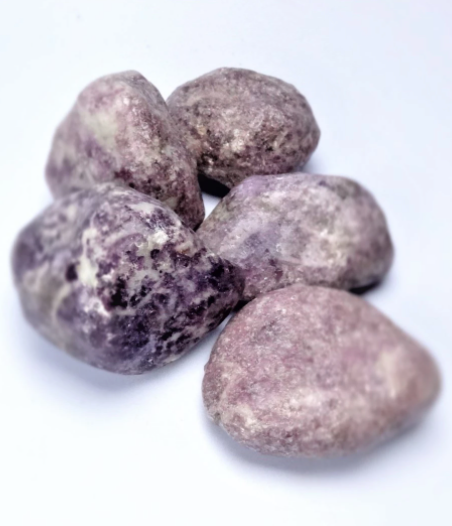 Shipping, Pick-Up, and Local Delivery

Select from affordable carbon-neutral shipping options, local same-day delivery for Woonsocket, RI and Blackstone, MA residents, or select free in-store pickup at our Park Ave location. If you select pickup, an email will be sent to you when your order is ready for pickup. Pickup is available any time during normal business hours.

Make A Difference With Your Order

For every order over $20, we will plant 1 tree through our partnership with Sprout. For every PRIDE product purchase, we will donate 100% of its proceeds to Youth Pride RI, Inc. For every Supports Africa product, we will donate 100% of the proceeds to the children of Kenya through Humanium. For every Wolf Fur purchase, we will donate 50% of proceeds to the Southern Ohio Wolf Sanctuary.
Sprout Total Count Banner Will Appear Here After Save