Mahogany Obsidian
Regular price
$4.00 USD
Sale price
$3.00 USD
Unit price
per
Sale
Sold out
Mahogany Obsidian activates our lower 3 chakras and stimulates growth, sexuality, strength, creativity, passion, and protection. This powerful grounding stone works to bring thoughts and ideas into action for the sole purpose of personal growth. This crystal works to release us from our own inner limitations that restrict development of our life path.
Mahogany Obsidian works to eliminate that hesitation within that is constantly weighing judgement on decisions that greatly affect your life purpose. When finally being able to push past such restriction, one will soon learn that anything is possible if your willing to take the chance.
Mahogany Obsidian works to unlock and enhance all of your creative energy that has been pushed into being dormant. Creativity is much like a muscle, when you stop working it out, it will slowly fade away. This stone helps in releasing and reactivating these energies so that they may be pumped throughout the body and put to use once again. One will soon be able to express their true selves once more and be the highest version of themselves. Our emotions become reactivated and you'll soon be able to "feel" again. You'll begin to look at the world around you with a different set of lenses.
This crystal is great for any person looking to increase or unlock their sexual energy and vibrations. Mahogany Obsidian assists with being able to express yourself and desires with ease. When both partners are wearing it, it helps eliminate that anxious feeling when it comes to intercourse, especially with whom you are not completely comfortable with yet. This stone also helps with blood flow, allowing one to easily get stimulated even if they may normally have difficulties.
Healers use it to relieve pain and improve circulation. Obsidian is also considered to be useful for those suffering from depression or addiction. Mahogany obsidian, in particular, is said to increase sexuality and sensuality, most notably the sense of touch.
Mahogany Obsidian is a rare variety of Obsidian found primarily in the Western United States.  It gets its pretty red-brown coloring from a higher-than-normal concentration of Iron.  It is named after mahogany trees, which share a similarly striking red-brown color.  Like other Obsidians, it is formed from  rapidly cooling lava following a volcanic eruption.
Disclaimer: These statements have not been evaluated by the Food and Drug Administration. This product is not intended to diagnose, treat, cure or prevent any disease. Sold as a Curio. For external use only. Not for consumption.
Share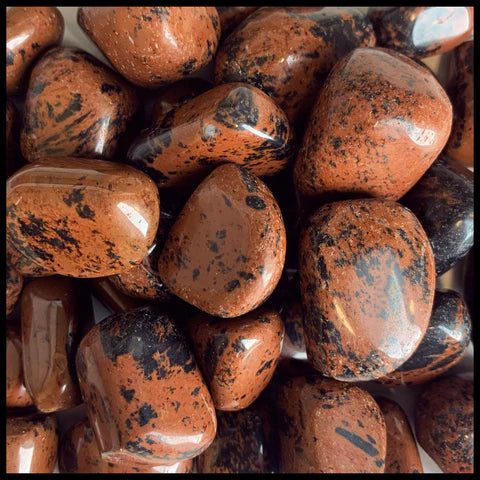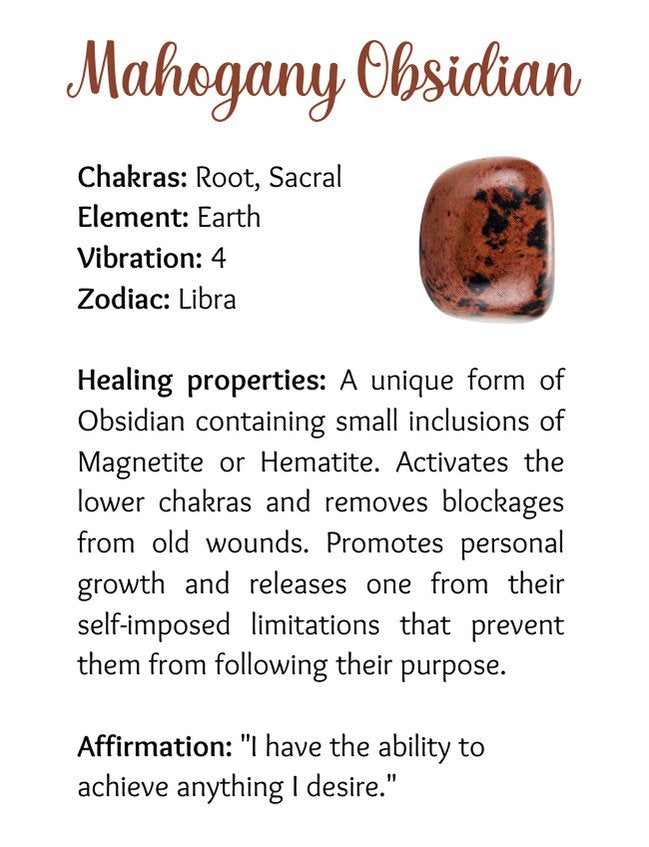 Shipping, Pick-Up, and Local Delivery

Select from affordable carbon-neutral shipping options, local same-day delivery for Woonsocket, RI and Blackstone, MA residents, or select free in-store pickup at our Park Ave location. If you select pickup, an email will be sent to you when your order is ready for pickup. Pickup is available any time during normal business hours.

Make A Difference With Your Order

For every order over $20, we will plant 1 tree through our partnership with Sprout. For every PRIDE product purchase, we will donate 100% of its proceeds to Youth Pride RI, Inc. For every Supports Africa product, we will donate 100% of the proceeds to the children of Kenya through Humanium. For every Wolf Fur purchase, we will donate 50% of proceeds to the Southern Ohio Wolf Sanctuary.
Sprout Total Count Banner Will Appear Here After Save