Ritual Herbs - Calendula
Regular price
Sale price
$3.99 USD
Unit price
per
Sale
Sold out
Element Associations: Fire
Planetary Associations: Sun
Astrological Associations: Leo
Chakra Associations: Solar Plexus + Heart
Energy: Masculine/Expressive 
Magical Properties: Wealth, Love, Reclaiming Boundaries, Sun Energy, Healing, Happiness + Strength, Legal Matters, Psychic Powers
Healing Properties: Anti-inflammatory, Antibacterial, Antioxidant, Immune Support
Botanical Name: Calendula officinalis
Origin: Egypt
Calendula has been used medicinally to treat skin irritations, such as eczema, bruises, scars and scrapes and can be put in ointments and balms to aid in healing. Magically, it can be used in ritual and spell work for happiness, prosperity, love, psychic powers and harmony and help to celebrate the rebirth of the sun god at the winter solstice. Amazing in bath salt blends!
**Always consult a physician before using herbal products, especially if you are pregnant, nursing, or on any medication(s). These herbs, resins, roots, flowers, and powders are meant to be used for spell and ritual work.
Share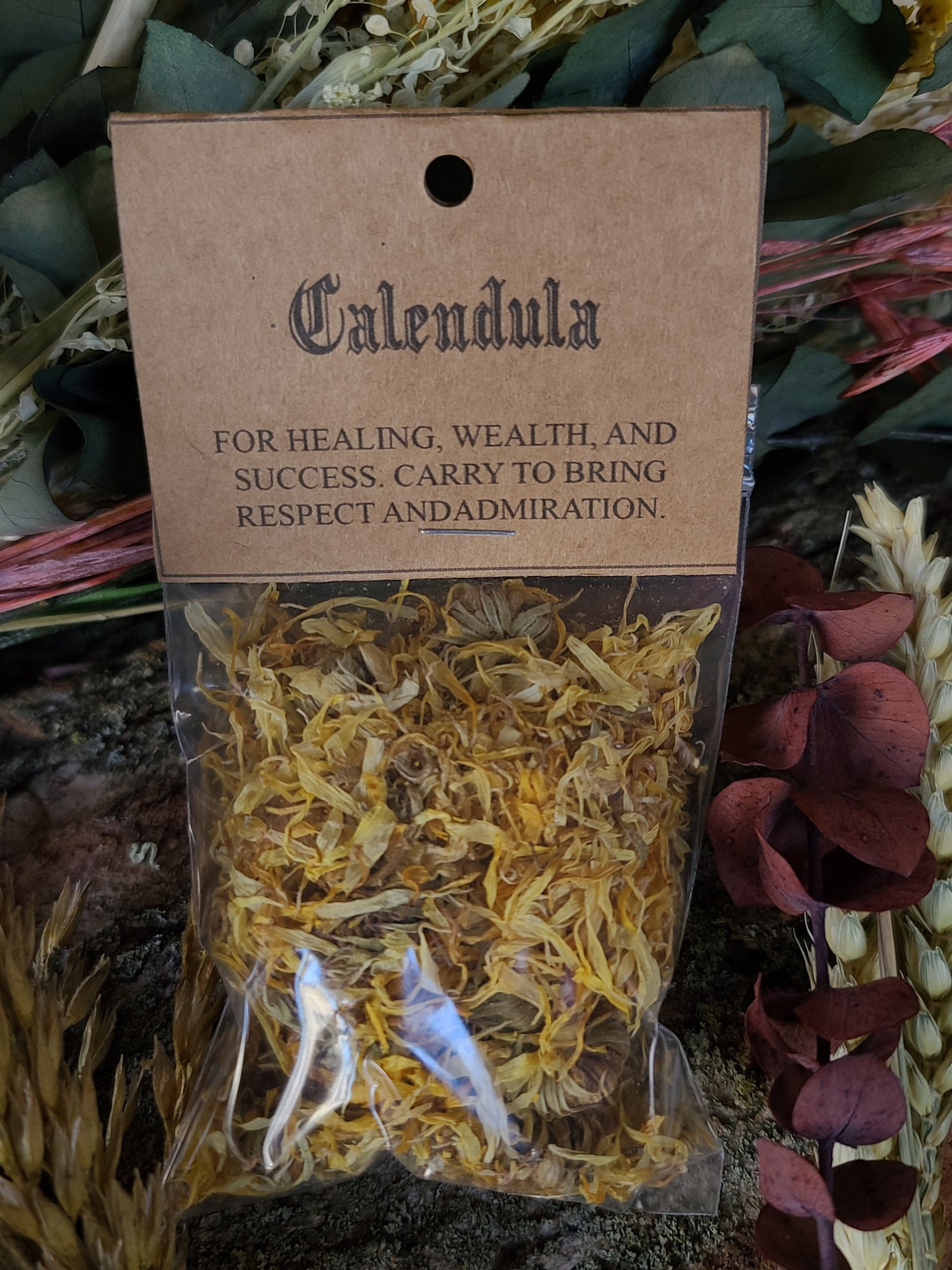 Shipping and Pick-Up Options

Select from affordable carbon-neutral shipping options or select free in-store pickup at our Woonsocket location. If you select pickup, an email will be sent to you when your order is ready for pickup. Pickup is available any time during normal business hours.

Make A Difference With Your Order

For every order over $20, we will donate enough to plant one tree through our partnership with a great organization. You can also choose to plant a tree with any order for only $1 at checkout through our other partnership.