Ritual Herbs - Hops Flowers
Regular price
Sale price
$3.99 USD
Unit price
per
Sale
Sold out
Element Associations: Air
Planetary Associations: Mars
Astrological Associations: Aries
Energy: Masculine / Expressive
Magical Properties: Sleep, Nightmare Prevention, Psychic Development, Healing
Healing Properties: Antispasmodic, Sedative, Soporific, Aromatic Bitter

Hops, most commonly known for their use in brewing beer, have a multitude of magical and medical uses. The plant has been cultivated for the use of brewing since as early as the 11th century but gained more traction for this purpose in 16th century England. The cones of the female plant are harvested and dried in early Autumn, which are then used to brew the iconic alcoholic beverage. This tall perennial plant is native to Europe and Asia but has since been grown commercially in the northern United States. 

Hops are predominantly used (outside their use for brewing purposes) for their sedative effects, which are caused by a number of constituents present within the plant such as lupulin. Because of their soporific effects, they are particularly effective in alleviating symptoms of stress and anxiety, especially when combined with herbs with similar effects. The plant's antispasmodic qualities are used to treat certain types of asthma and period pain, and its bitter principles make it great for digestive aid. 

Magically, hops are predominantly used for sleep due to their natural soporific qualities. Sleeping on a pillow stuffed with hops is said to ensure peaceful sleep, mitigate insomnia, and ward off nightmares. To promote physical and spiritual healing, carry hops on your person. In Celtic mythology, hops are associated with the wolves, winter, the underworld, Brighid, and the Imbolc celebration. 
**Always consult a physician before using herbal products, especially if you are pregnant, nursing, or on any medication(s). These herbs, resins, roots, flowers, and powders are meant to be used for spell and ritual work.
Share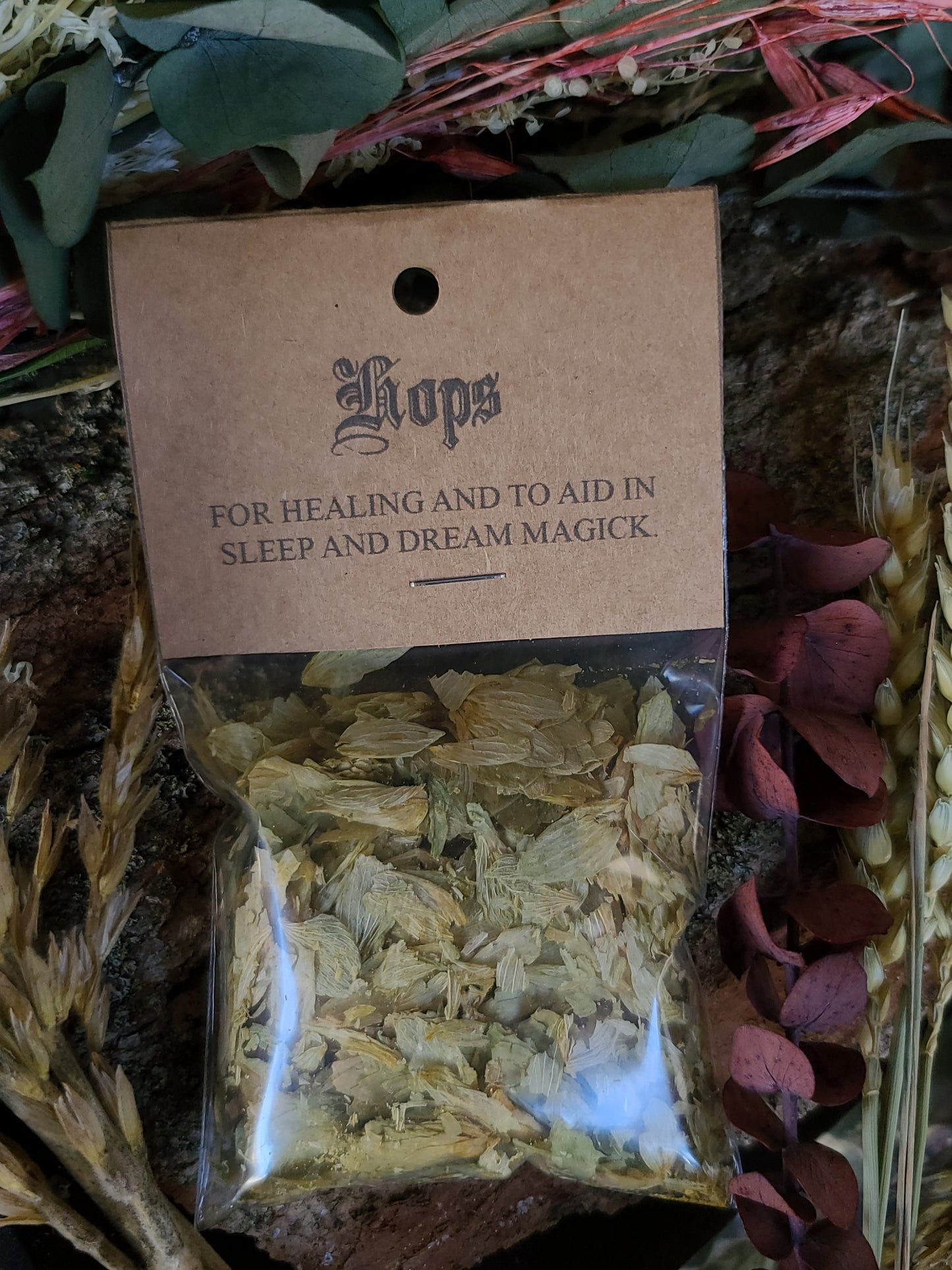 Shipping and Pick-Up Options

Select from affordable carbon-neutral shipping options or select free in-store pickup at our Woonsocket location. If you select pickup, an email will be sent to you when your order is ready for pickup. Pickup is available any time during normal business hours.

Make A Difference With Your Order

For every order over $20, we will donate enough to plant one tree through our partnership with a great organization. You can also choose to plant a tree with any order for only $1 at checkout through our other partnership.