Ritual Herbs - Mistletoe
Regular price
Sale price
$3.99 USD
Unit price
per
Sale
Sold out
Element Associations: Air + Water
Planetary Associations: Jupiter + Saturn
Astrological Associations: Leo
Chakra Associations: Third-Eye
Energy: Masculine/Expressive
Magical Properties: Protection, Love, Fertility, Health + Exorcism
Healing Properties: Anti-inflammatory, Antioxidant, Antibacterial
Botanical Name: Viscum album
Deities: Apollo, Freya, Frigga, Venus, Odin

Mistletoe has been used in spells to boost love, protection, hunting success, forgiveness, and reconciliation. Known as all-heal and believed to increase fertility in both people and animals, mistletoe was a sacred plant to the Druids. It was also used for good luck and defense against evil spirits.

MISTLETOE CHARM SPELL
Wrap the mistletoe in a white cloth before hanging it in special places around the home, tied with red or white ribbon. Hanging mistletoe over the bed with a simple prayer for a child is an ancient charm to enhance fertility, whereas placing it over the hearth or the front door encourages kinship, goodwill and a happy home. Hang up your mistletoe with simple prayers for love, good friendships, a beautiful home and garden, success in your business or any creative adventure, and it will bring your dreams to manifestation in the coming spring. When the solstice has passed, either leave the mistletoe in its place or find another respectful place to hang it over the coming year and then burn it at the following Winter Solstice, replacing it with a fresh bunch.
**Always consult a physician before using herbal products, especially if you are pregnant, nursing, or on any medication(s). These herbs, resins, roots, flowers, and powders are meant to be used for spell and ritual work.
Share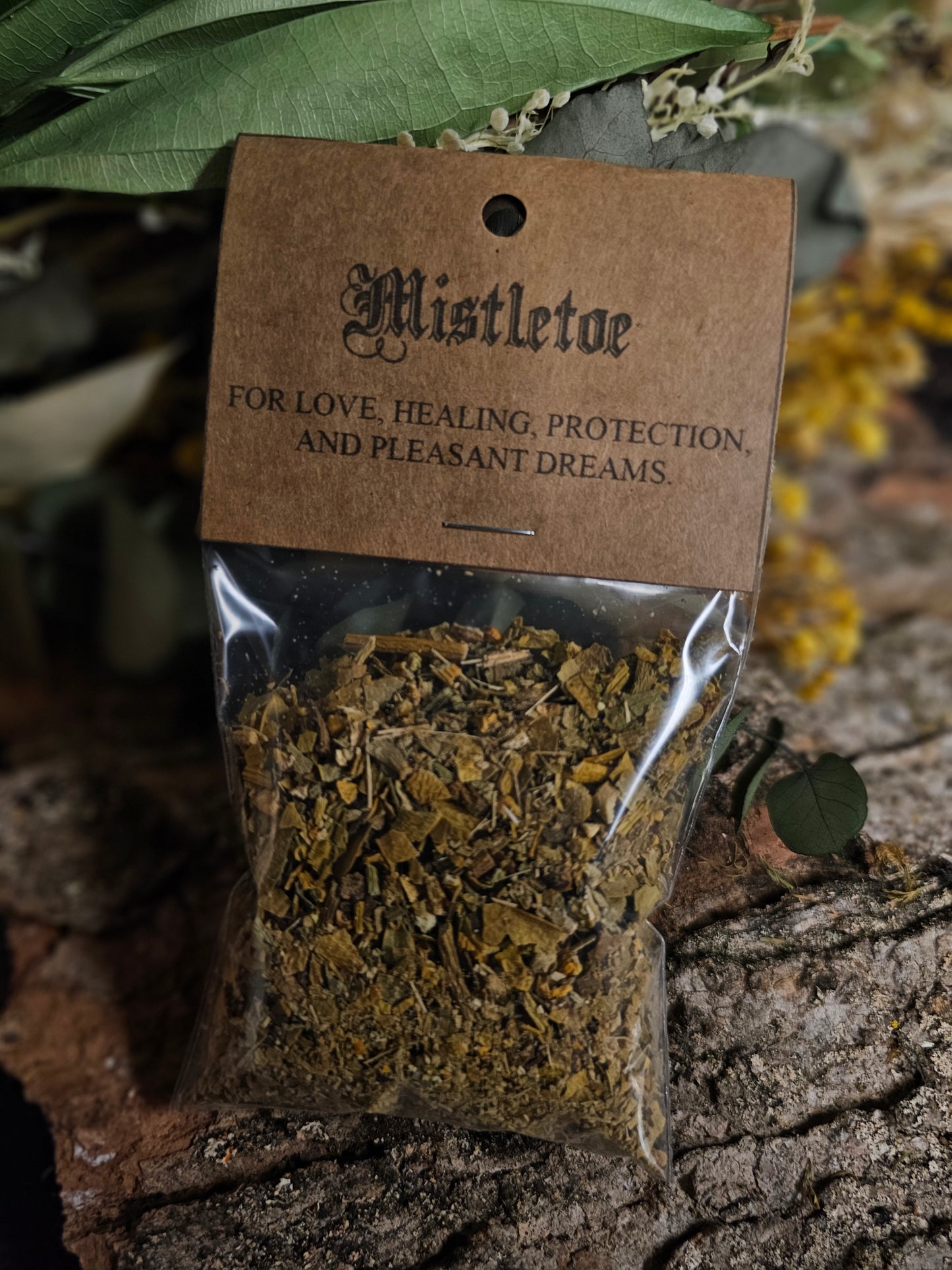 Shipping, Pick-Up, and Local Delivery

Select from affordable carbon-neutral shipping options, local same-day delivery for Woonsocket, RI and Blackstone, MA residents, or select free in-store pickup at our Park Ave location. If you select pickup, an email will be sent to you when your order is ready for pickup. Pickup is available any time during normal business hours.

Make A Difference With Your Order

For every order over $20, we will plant 1 tree through our partnership with Sprout. For every PRIDE product purchase, we will donate 100% of its proceeds to Youth Pride RI, Inc. For every Supports Africa product, we will donate 100% of the proceeds to the children of Kenya through Humanium. For every Wolf Fur purchase, we will donate 50% of proceeds to the Southern Ohio Wolf Sanctuary.
Sprout Total Count Banner Will Appear Here After Save