Ritual Herbs - St. John's Wort
Regular price
Sale price
$3.99 USD
Unit price
per
Sale
Sold out
Element Associations: Fire
Planetary Associations: Sun
Astrological Associations: Libra
Chakra Associations: Solar Plexus
Energy: Masculine/Expressive
Magical Properties: Protection, Light Magick, Banishing, Cleansing, Divination, Love, Dreams
Healing Properties: Treatment for depression, anxiety, insomnia, menopause + headaches
Botanical Name:Hypericum perforatum

Native to Europe and Western Asia, this protective herb is a shrubby perennial with bright yellow flowers. When rubbed, the flowers and leaves yield a red oil that has many medicinal uses. This herb gets its name from its connection to Saint John's Day, celebrated in late June. The word wort comes from the Old English wyrt, meaning "plant".

Originally a pagan celebration centered on the summer solstice, Saint John's Day, also known as Midsummer, is recognized as a religious holiday. Depending on the cultural tradition, it may be celebrated any day between June 21 and 25.

This herb is known to bring light in times of darkness and acts as a calming influence. Use it in love spells or place it under your pillow for romantic and prophetic dreams. Burn it to cleanse your space or to banish negative influences.
**Always consult a physician before using herbal products, especially if you are pregnant, nursing, or on any medication(s). These herbs, resins, roots, flowers, and powders are meant to be used for spell and ritual work.
Share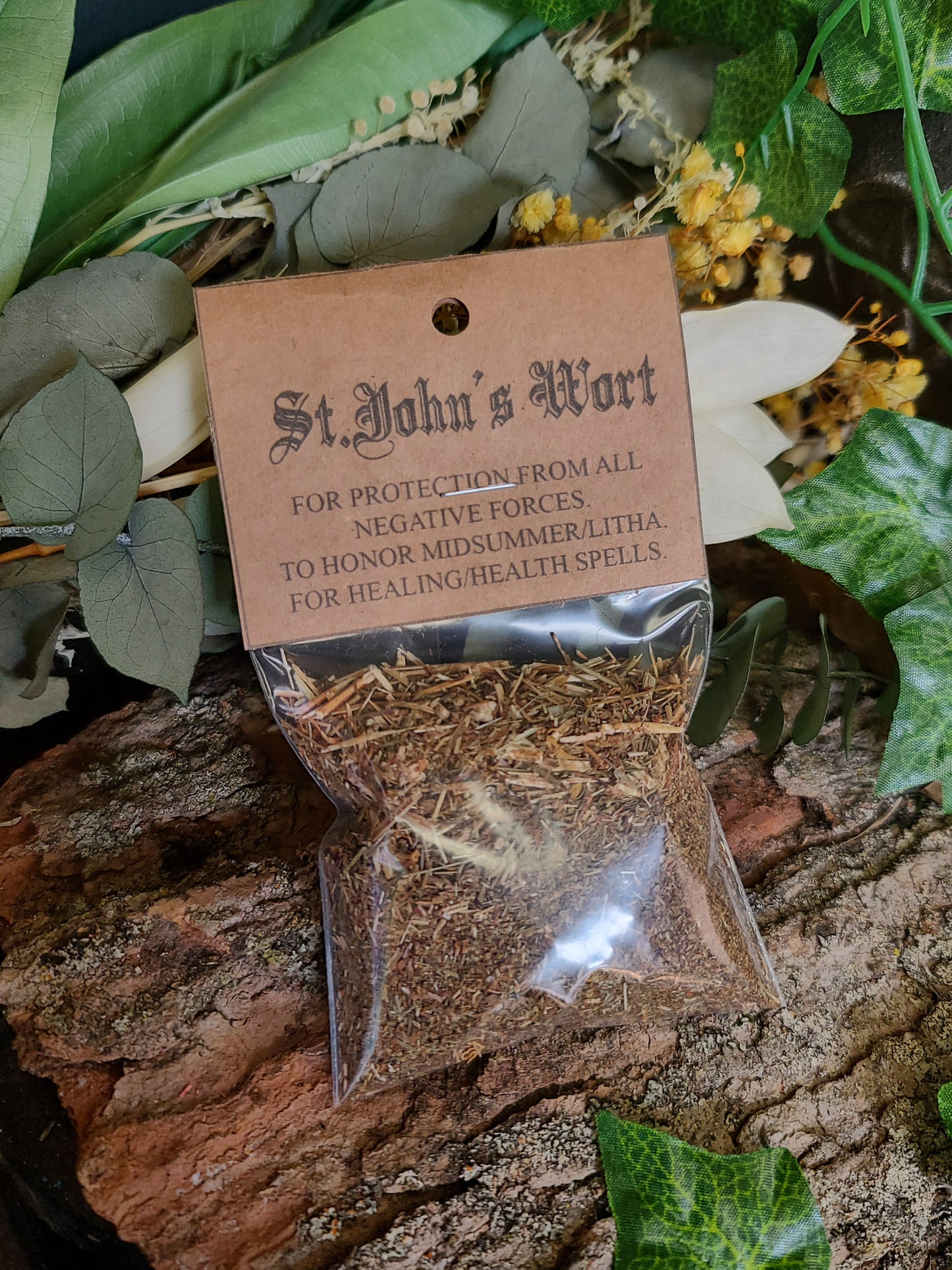 Shipping and Pick-Up Options

Select from affordable carbon-neutral shipping options or select free in-store pickup at our Woonsocket location. If you select pickup, an email will be sent to you when your order is ready for pickup. Pickup is available any time during normal business hours.

Make A Difference With Your Order

For every order over $20, we will donate enough to plant one tree through our partnership with a great organization. You can also choose to plant a tree with any order for only $1 at checkout through our other partnership.