Financial Security Charm by Maeva Moonstar *Limited Edition*
Regular price
Sale price
$70.00 USD
Unit price
per
Sale
Sold out
Crafted during the waxing moon and charged on a Sunday for success during the Jupiter hour by Maeva Moonstar. Limited edition. 
Contains:
Herbal Blend for Money Drawing
Tiger's Eye crystal for success and prosperity
Aventurine crystal chips for abundance and attracting money
Pyrite for good luck and financial success
Carnelian for personal power, confidence, and happiness to assist in breaking down blockages and self-imposed barriers
Salt for prosperity and protecting your assets and finances
Cinnamon for protecting your funds from unwanted financial burdens, negative people who may affect your finances, and curses/hexes/jinxes attacking your financial well-being
Jezebel Root for increasing income 
$100 bill with the written petition on it
Fast Cash conjure oil
Witch's Purse conjure oil 
Hidden and not-so-hidden sigils for financial gain and security
Custom wax seal 
How to use it:
Sit with it in a quiet, comfortable spot
Read over the ingredients list (above) to understand the purpose of every part until you feel it in your bones that it's meant for you.
Charge it with the energy of your desire, need, or hopes by envisioning what it feels like to be financially secure
Once you feel you have exhausted your efforts and feel like your point was sent out to the universe. Give thanks to the universe for aiding you. 
You may then place it upon your altar or in a safe space. 
Always remember that the universe works with you, not for you. Put your efforts where it matters and do what is necessary to for financial health. This vessel will help your efforts and accelerate that process. 
Warning⚠️ intentionally opening, breaking the seal, or breaking the vessel will have the opposite effect on your financial stability. 
Disclaimer: Results are not guaranteed. Results are heavily dependent upon your use of energy, magick, and intention. The ingredients are blessed and charged for their purposes but it is up to you to make this vessel yours for your intention. For legal purposes, this item is sold as a curio item for entertainment only. 
Share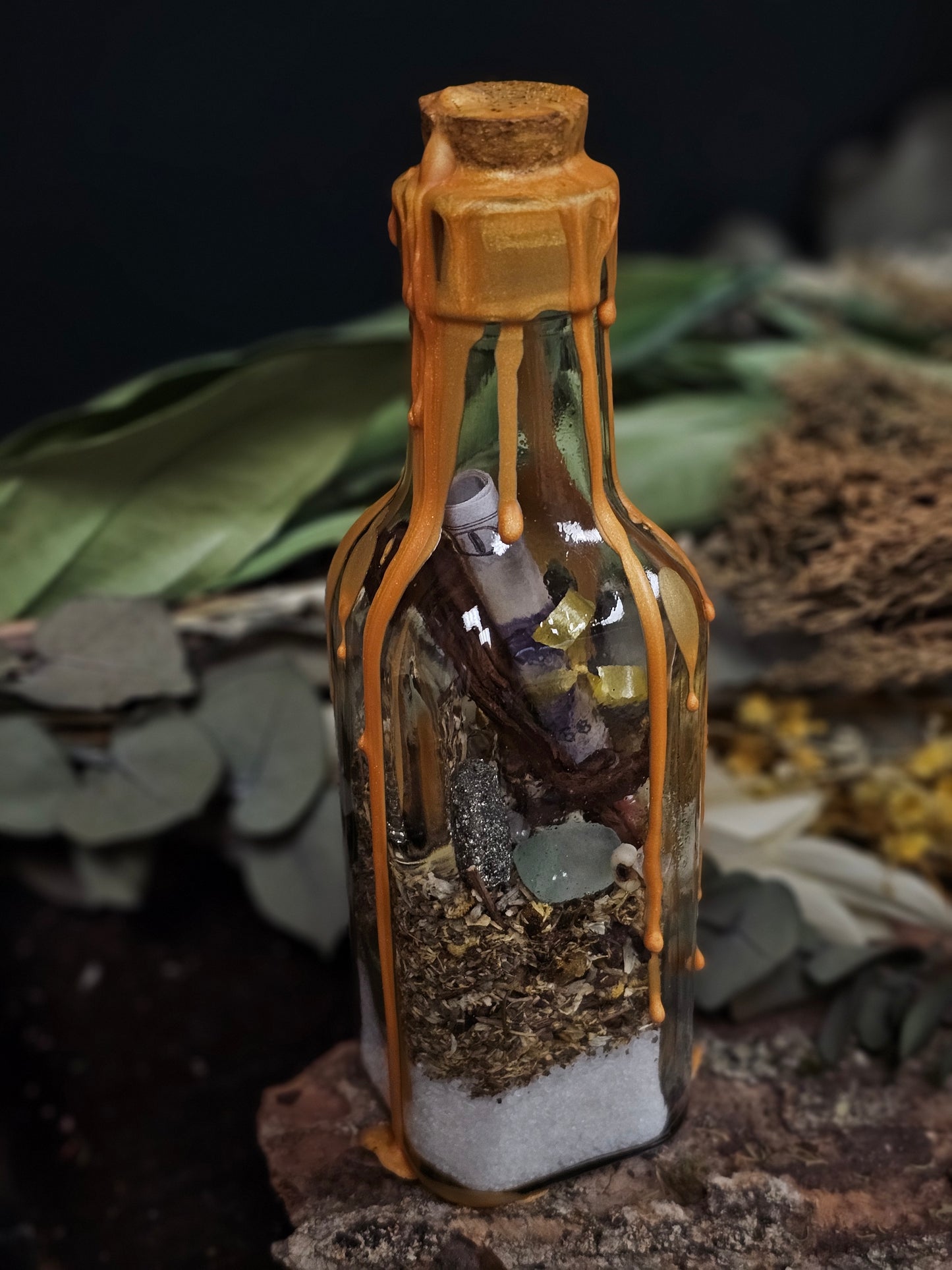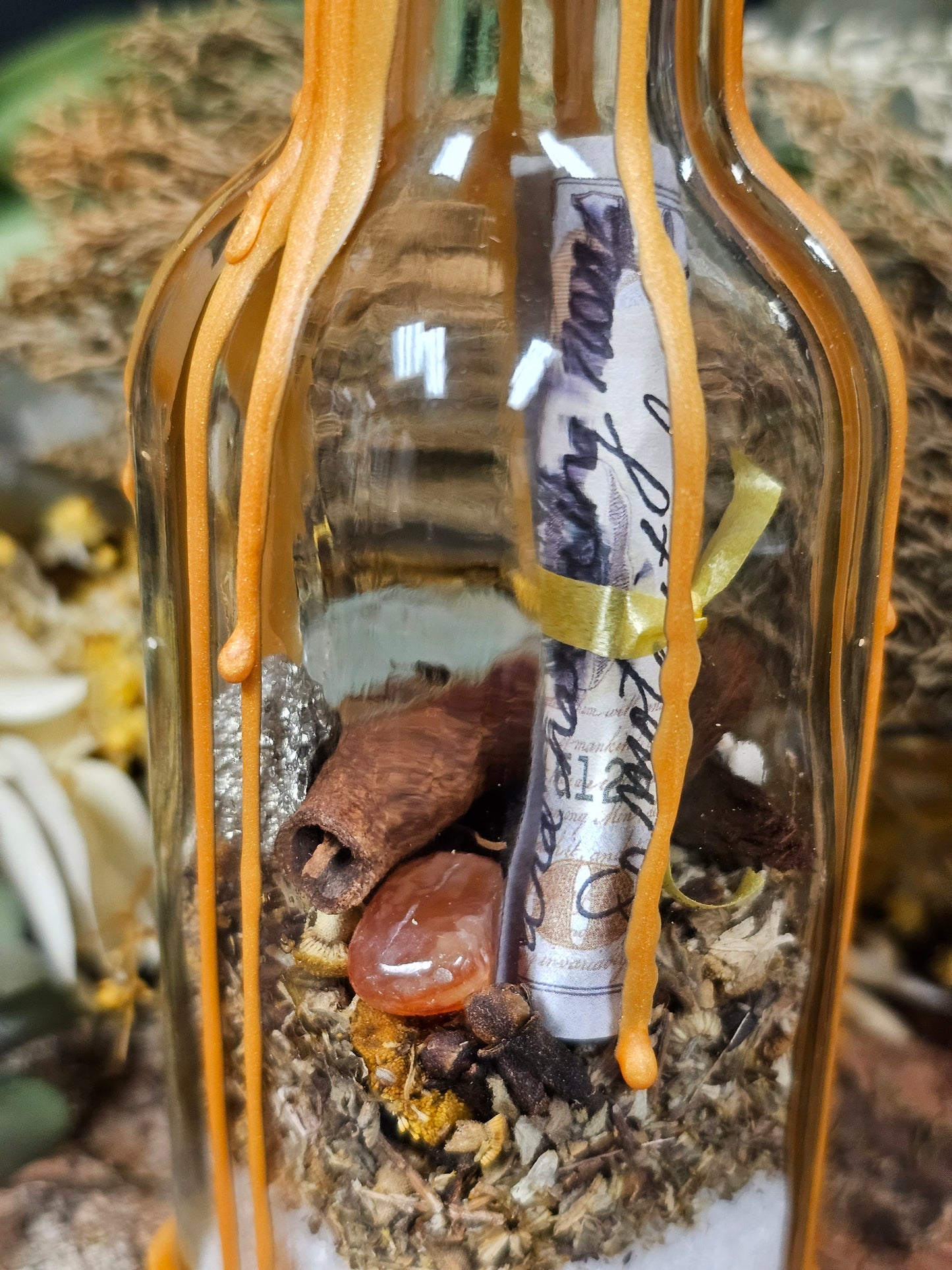 Shipping, Pick-Up, and Local Delivery

Select from affordable carbon-neutral shipping options, local same-day delivery for Woonsocket, RI and Blackstone, MA residents, or select free in-store pickup at our Park Ave location. If you select pickup, an email will be sent to you when your order is ready for pickup. Pickup is available any time during normal business hours.

Make A Difference With Your Order

For every order over $20, we will plant 1 tree through our partnership with Sprout. For every PRIDE product purchase, we will donate 100% of its proceeds to Youth Pride RI, Inc. For every Supports Africa product, we will donate 100% of the proceeds to the children of Kenya through Humanium. For every Wolf Fur purchase, we will donate 50% of proceeds to the Southern Ohio Wolf Sanctuary.
Sprout Total Count Banner Will Appear Here After Save