African Hand-Carved Wooden Ashanti Fertility Doll
Regular price
Sale price
$6.00 USD
Unit price
per
Sale
Sold out
African hand-carved Ashanti dolls also known as fertility dolls.
The fertility doll which originates from Ghana but can be found in many other countries in western Africa is given to a tribal woman who is wanting to become pregnant. The doll is carried by the wishful woman and is cared for as if it were an actual baby while she is waiting for conception to occur. The women carry the doll and treat it like a real child, dressing it up, adorning it with jewelry and putting it to bed. Once birth is achieved the doll will be handed down to the child who will receive the fertility doll as a toy which in turn teaches the child how to cares for a young baby.
The round head of the Ashanti doll is symbolic of the feminine womb. It also is considered by some to be symbolic of a moon goddess. A high forehead is a symbol of beauty, the neck ring depicts creases caused by fat, which is an indication of health. The body of the fertility doll is shaped like a cross and is similar to the Kamitic symbol known as the Djed, which according to Egyptian legend is the backbone of the God Ausar. In ancient spiritual teachings, Ausar possesses great power because his emotions and thoughts are stable and unwavering.
According to the myths of the Ashanti Fertility doll, the bearer of such a doll will give birth to beautiful and healthy children. Having Children in African culture is highly desirable and an indicator of prosperity.
These fertility dolls are 4-5 inches tall and stand on their own. Due to being hand-carved, slight variations are expected. That's the beauty of authenticity!
Share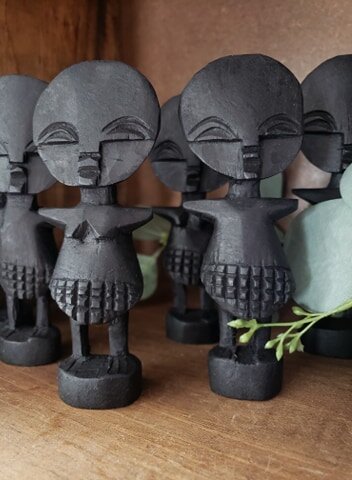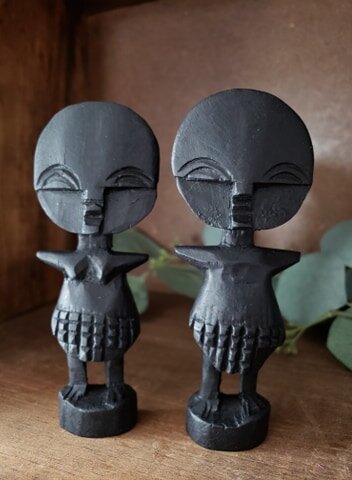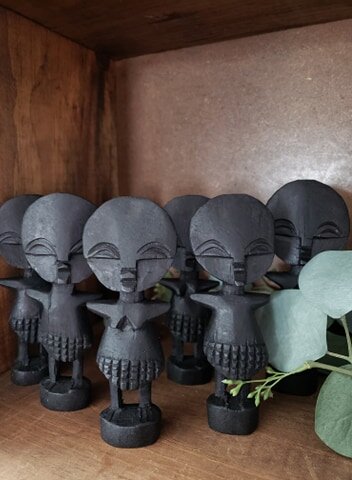 Shipping and Pick-Up Options

Select from affordable carbon-neutral shipping options or select free in-store pickup at our Woonsocket location. If you select pickup, an email will be sent to you when your order is ready for pickup. Pickup is available any time during normal business hours.

Make A Difference With Your Order

For every order over $20, we will donate enough to plant one tree through our partnership with a great organization. You can also choose to plant a tree with any order for only $1 at checkout through our other partnership.