Frankincense Resin (1 oz)
Regular price
$5.00 USD
Sale price
$4.00 USD
Unit price
per
Sale
Sold out
Loose Resin for spirituality, protection, exorcism, raising vibes, relaxation, introspection, dispelling evil, rites of consecration, vision, meditation
Frankincense holds such powerful properties for purification of the body, mind & spirit, for meditation, prayer or magickal practices, in which the user intends to build a stronger connection to source / God. Frankincense can bring about intense spiritual growth as it works to clear the chakras & energy bodies of any negativity, offering protection & strength. With that said, Frankincense can greatly enhance one's mood and bring a great energy to help one focus on their personal enlightenment & overall happiness. Frequently used in perfumes or potpourri blends, Frankincense can also double as a paint, as it was used in Ancient Egypt to paint the eyelids of Women, keeping them blessed with the gift of 'sight.' Often before Mass, the Catholic church uses Frankincense resin burned over charcoal, to cleanse the sacred space & consecrate the environment before prayer or ritual, Helping to attune one's vibrations to a higher light. Frankincense makes for a powerful tool when one is working on deepening their communication with their higher self during a meditation. Incorporate Frankincense as an offering at for your next ritual or ceremony, honoring the gift of illumination.

Botanical Name: Boswellia Carteri
Element Correspondences: Air, Fire
Planetary Correspondences: Sun
Zodiac Correspondences: Leo
Magickal Uses: Cleansing, Exorcism, Meditation, Generally Lift the Spirits, Purification, Protection, Spirituality, Sacred Space Preparation, Consecration, Blessing, Love, Courage, Ward Off Evil, Illumination, Ceremonial Incense.
Magickal Tip: Burn Frankincense prior to the ceremony to purify your sacred space & welcome illumination.
Chakras: Solar Plexus (3rd) / Crown Chakra (7th)
Holistic Uses: Said to once be used as a wax-like, hair remover, Frankincense can also be used as a way to balance one's emotions when taken internally. Powdered resin may be added to water, forming a tincture, later rubbed on the skin to treat arthritis & muscle pain.
1 oz. (weight) loose Frankincense Resin

Packaging may vary based on availability
DISCLAIMER: This product is not intended to diagnose, treat, cure or prevent any disease. Sold as a Metaphysical/Spiritual Curio without claims or guarantees. For external use only. Not for consumption. Success with use may vary. The purchaser assumes all risk and liabilities in the use or misuse of these products.
We sell our incense/resin products for the sole purpose of using as incense. We are not responsible for any other use. Always use resins and incense responsibly. Keep away from children and pets. Do not ingest. If ingestion occurs, seek medical attention. Never leave burning resin or incense unattended. Always make sure you are using heat resistant burners in a safe manner. Burn incense with sufficient fresh air flow by opening up windows.
Share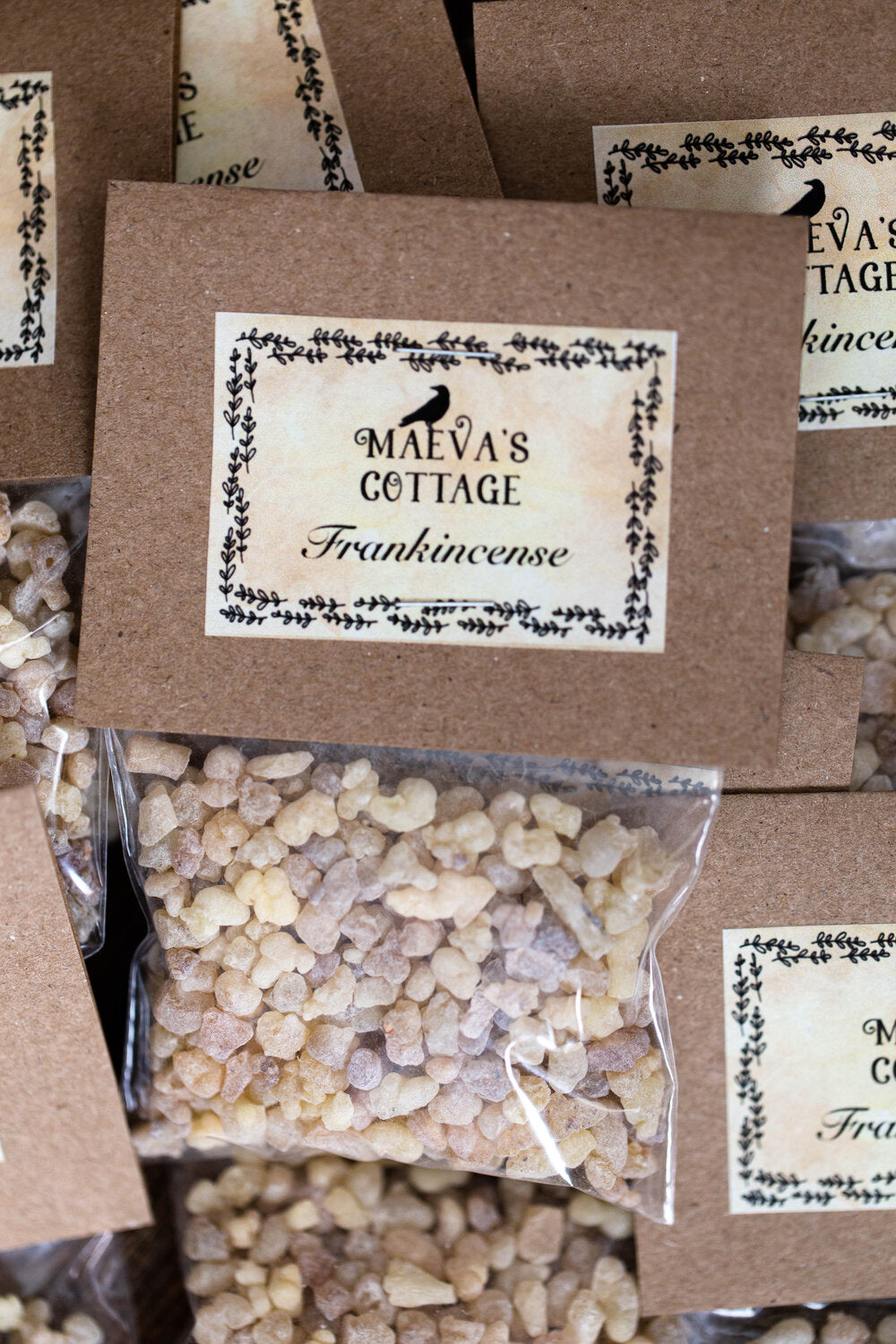 Shipping and Pick-Up Options

Select from affordable carbon-neutral shipping options or select free in-store pickup at our Woonsocket location. If you select pickup, an email will be sent to you when your order is ready for pickup. Pickup is available any time during normal business hours.

Make A Difference With Your Order

For every order over $20, we will donate enough to plant one tree through our partnership with a great organization. You can also choose to plant a tree with any order for only $1 at checkout through our other partnership.