Pentacle Silver and Brass 5" Chalice
Regular price
Sale price
$15.00 USD
Unit price
per
Sale
Sold out
"In Wiccan practices, the chalice represents the Goddess herself. It is a symbol of the womb and the element of water. It is an important magical tool that is a symbol of faith and is a very sacred representation of the Divine Feminine.
In Wicca, the chalice is one of the four primary tools used in rituals. The others include a pentacle, wand, and a sword known as an athame. The chalice, also known as a goblet, represents the open womb when held upright. It is a vessel for receiving blessings. Inverted, it represents birth and bringing forth one's creative power. This sacred vessel serves a variety of purposes and is used for consecrating the circle, spell casting, and scrying. During rituals and celebrations, drinks from the sacred chalice are often shared among coven members to symbolize unity and create stronger bonds.
In many rituals, an athame (sword) is dipped into liquid held in the chalice, representing the union of the God and Goddess into a perfect whole of creation. It is similar in premise to the Yin/Yang symbol that represents both distinction and unity between genders. Both are vital and necessary for the completion of the whole." [Source: Instant Karma]
5 inches

The cup is silver-plated (associated with the Moon & Goddess)

The stem is solid brass (associated with the Sun & God)
Disclaimer: This product is not intended to diagnose, treat, cure, or prevent any disease. Sold as a Curio. For external use only. Not for consumption. 
Share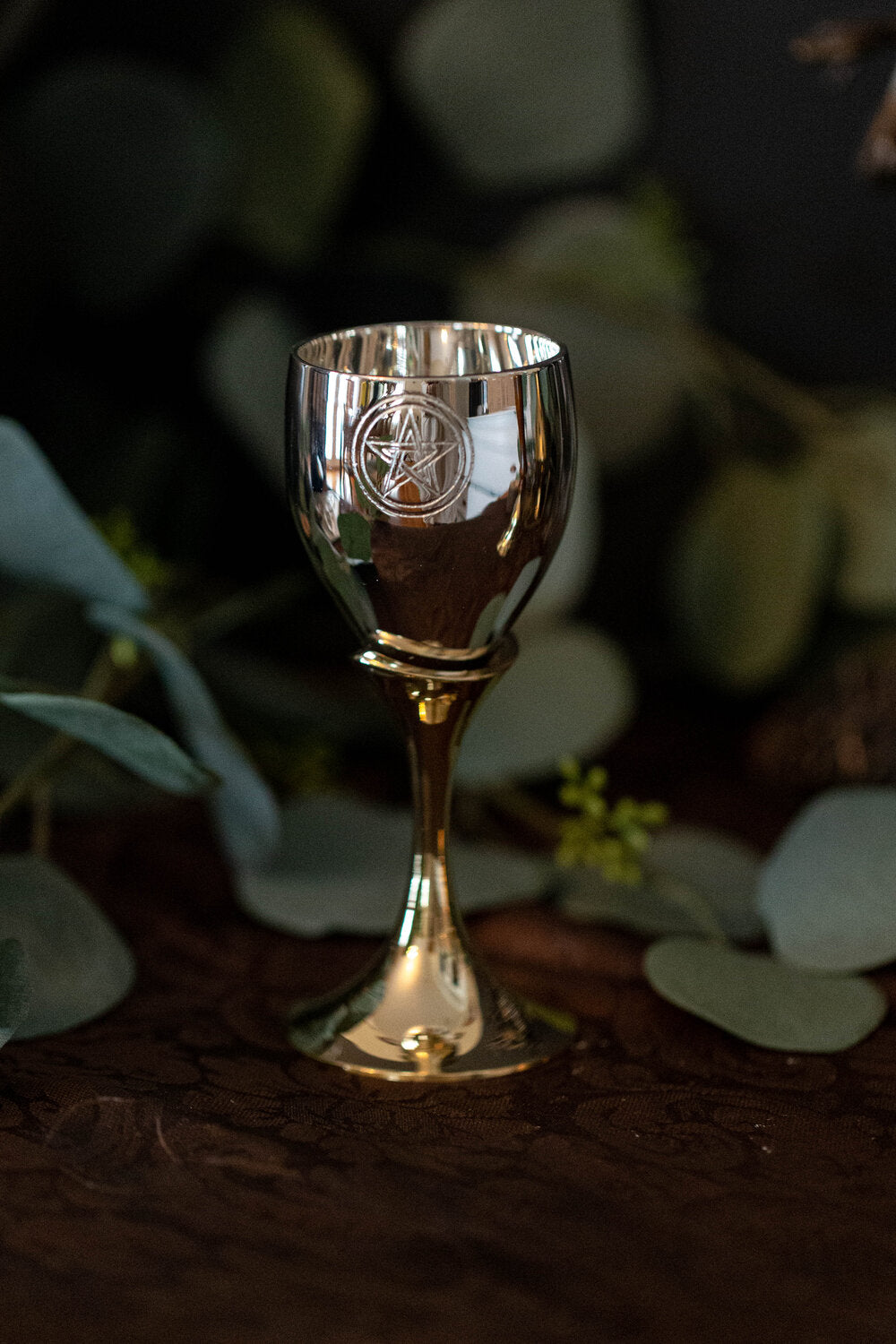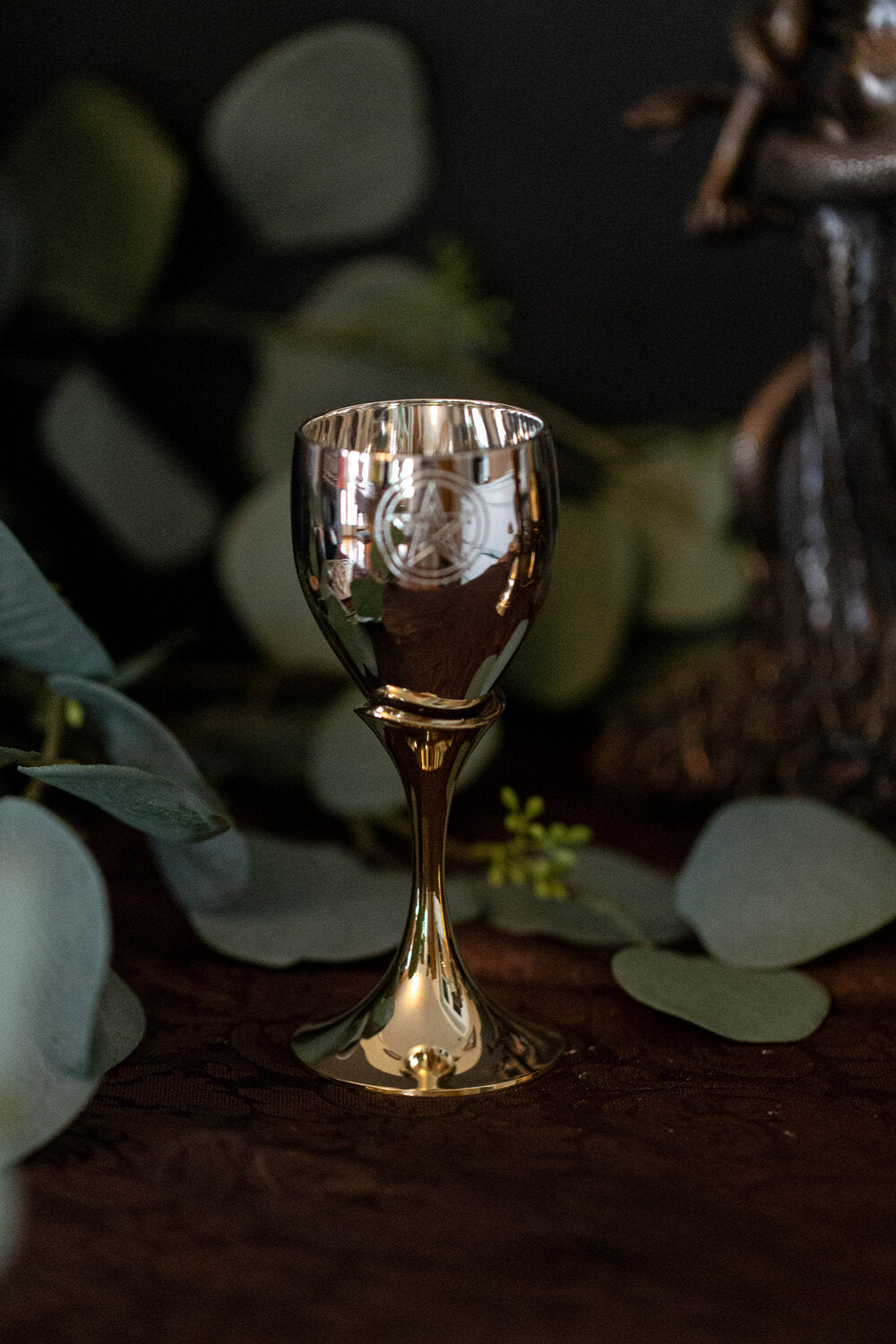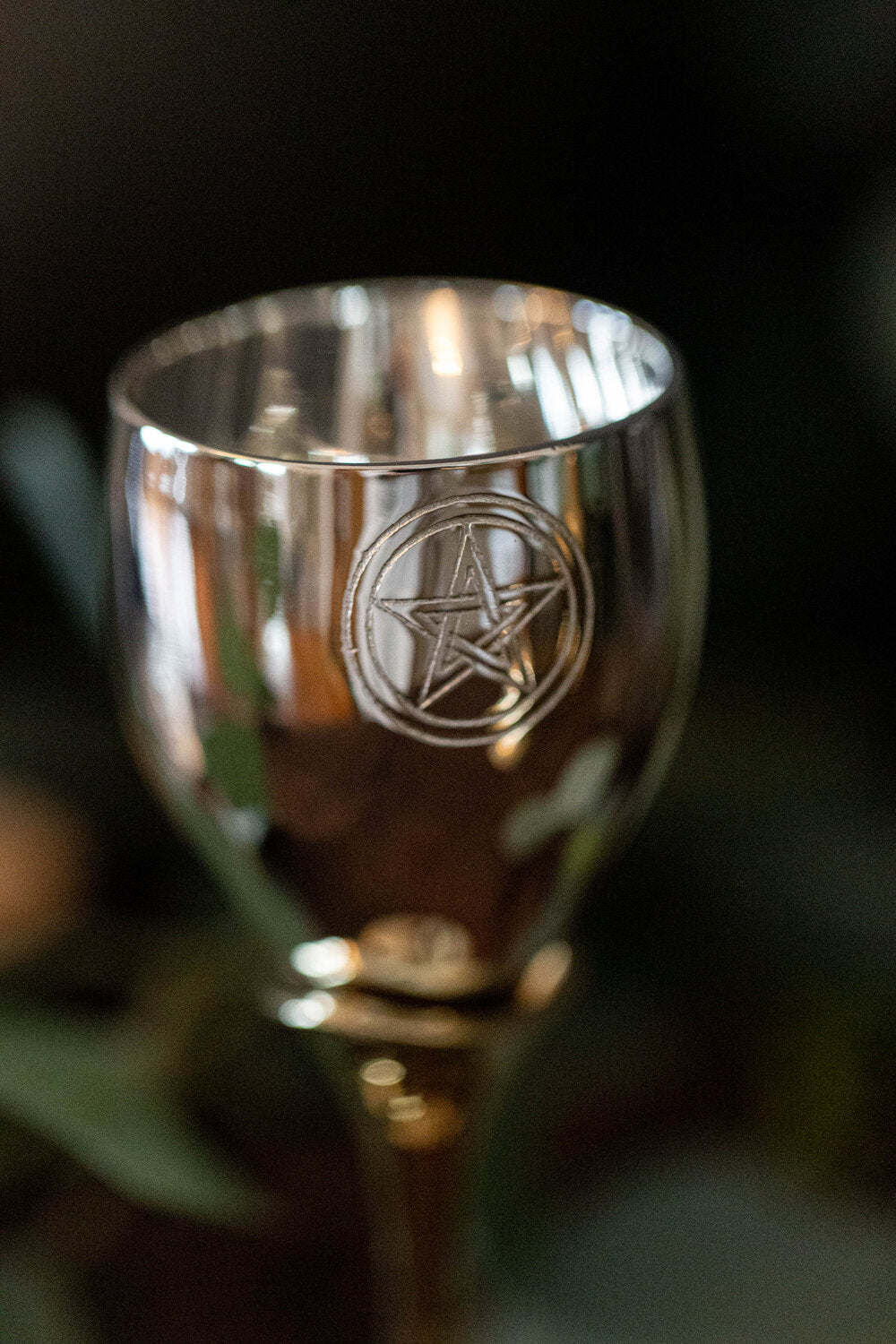 Shipping, Pick-Up, and Local Delivery

Select from affordable carbon-neutral shipping options, local same-day delivery for Woonsocket, RI and Blackstone, MA residents, or select free in-store pickup at our Park Ave location. If you select pickup, an email will be sent to you when your order is ready for pickup. Pickup is available any time during normal business hours.

Make A Difference With Your Order

For every order over $20, we will plant 1 tree through our partnership with Sprout. For every PRIDE product purchase, we will donate 100% of its proceeds to Youth Pride RI, Inc. For every Supports Africa product, we will donate 100% of the proceeds to the children of Kenya through Humanium. For every Wolf Fur purchase, we will donate 50% of proceeds to the Southern Ohio Wolf Sanctuary.
Sprout Total Count Banner Will Appear Here After Save