Ritual Herbs - Hyssop
Regular price
Sale price
$3.99 USD
Unit price
per
Sale
Sold out
Element Associations: Fire
Planetary Associations: Jupiter
Astrological Associations: Cancer
Chakra Associations: Throat
Energy: Masculine/Expressive
Magical Properties: Purification, Protection
Healing Properties: Antiseptic, Cough Reliever, 
Botanical Name: Hyssopus Officinalis
Hyssop is one of the more ancient magical and medicinal herbs, proposed to have been in use since classical antiquity (between the 8th century BCE and the 6th century CE). It is referenced several times in the bible (though due to its native habitat -Southern Europe- it is suggested by researchers that these references are actually referring to a species of either caper or savoury). The most widely known bible reference of Hyssop is David's Prayer- Psalms 51:7 - "Cleanse me with Hyssop, and I will be clean", though another reference that illustrates its uses and associations is that of John 19:29 - where Jesus is given a drink of vinegar via a sponge on a hyssop branch during his crucifixion. 
Knowing these references, as well as a few other notable ones (hyssop being used to purify people and homes in Leviticus, as well as being used as protection during the Passover), we can see the historical value of the herb's purifying and protective qualities. In modern times, Hyssop is used frequently in baths, sachets, and talismans, particularly when purging negativity from one's self or home. 
**Always consult a physician before using herbal products, especially if you are pregnant, nursing, or on any medication(s). These herbs, resins, roots, flowers, and powders are meant to be used for spell and ritual work.
Share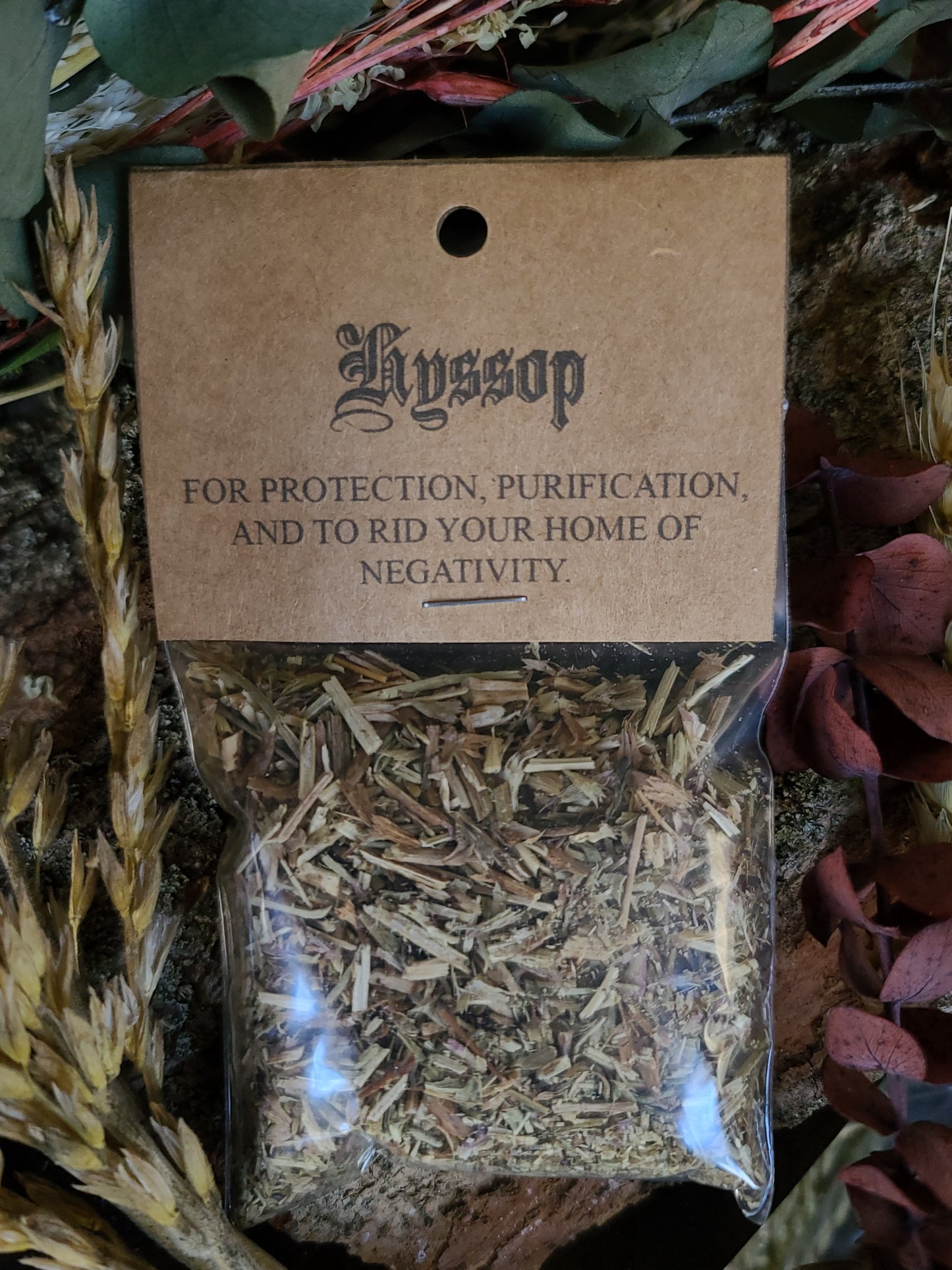 Shipping and Pick-Up Options

Select from affordable carbon-neutral shipping options or select free in-store pickup at our Woonsocket location. If you select pickup, an email will be sent to you when your order is ready for pickup. Pickup is available any time during normal business hours.

Make A Difference With Your Order

For every order over $20, we will donate enough to plant one tree through our partnership with a great organization. You can also choose to plant a tree with any order for only $1 at checkout through our other partnership.