Ritual Herbs - Solomon's Seal Root
Regular price
Sale price
$2.99 USD
Unit price
per
Sale
Sold out
Solomon's Seal Root Magical Uses: Solomon's Seal (Convallaria polygonatum) is used for wisdom, protection, spiritual cleansing, and success.
Burn Solomon's Seal, Frankincense, and Bay Leaf on charcoal to create a powerful incense for mastery and protection.
Some ideas for magical uses:
Carry a pinch of Solomon's Seal, Master Root chips, and Peony root in a mojo bag dressed with Master oil to bring success in school or the workplace.
Create a

 

bath

 

with Solomon's Seal, Rue, and Lemongrass to cleanse the self from crossing or jinxing.
Sprinkle Solomon's Seal on a Crown of Glory candle to bring in wisdom along with success.
Protection: Place fresh Solomon Seal in a sachet and carry it with you or hang it in your home to ward off negative energies and protect against harm.
Healing: Make a tea or tincture from Solomon Seal root to support the body's natural healing processes and to promote overall wellness.
Divination: Burn dried Solomon Seal root as incense or add it to a divination blend to enhance your intuition and psychic abilities.
Spirit Communication: Place Solomon Seal in a sachet and hang it near your bed or place it under your pillow to promote communication with the spirits and ancestors.
Spellwork: Use Solomon Seal in spells for protection, healing, and divination, or to create a talisman for good luck and prosperity.
Offerings: Place Solomon Seal on an altar or as an offering to the spirits and ancestors to honor them and ask for their guidance.
Share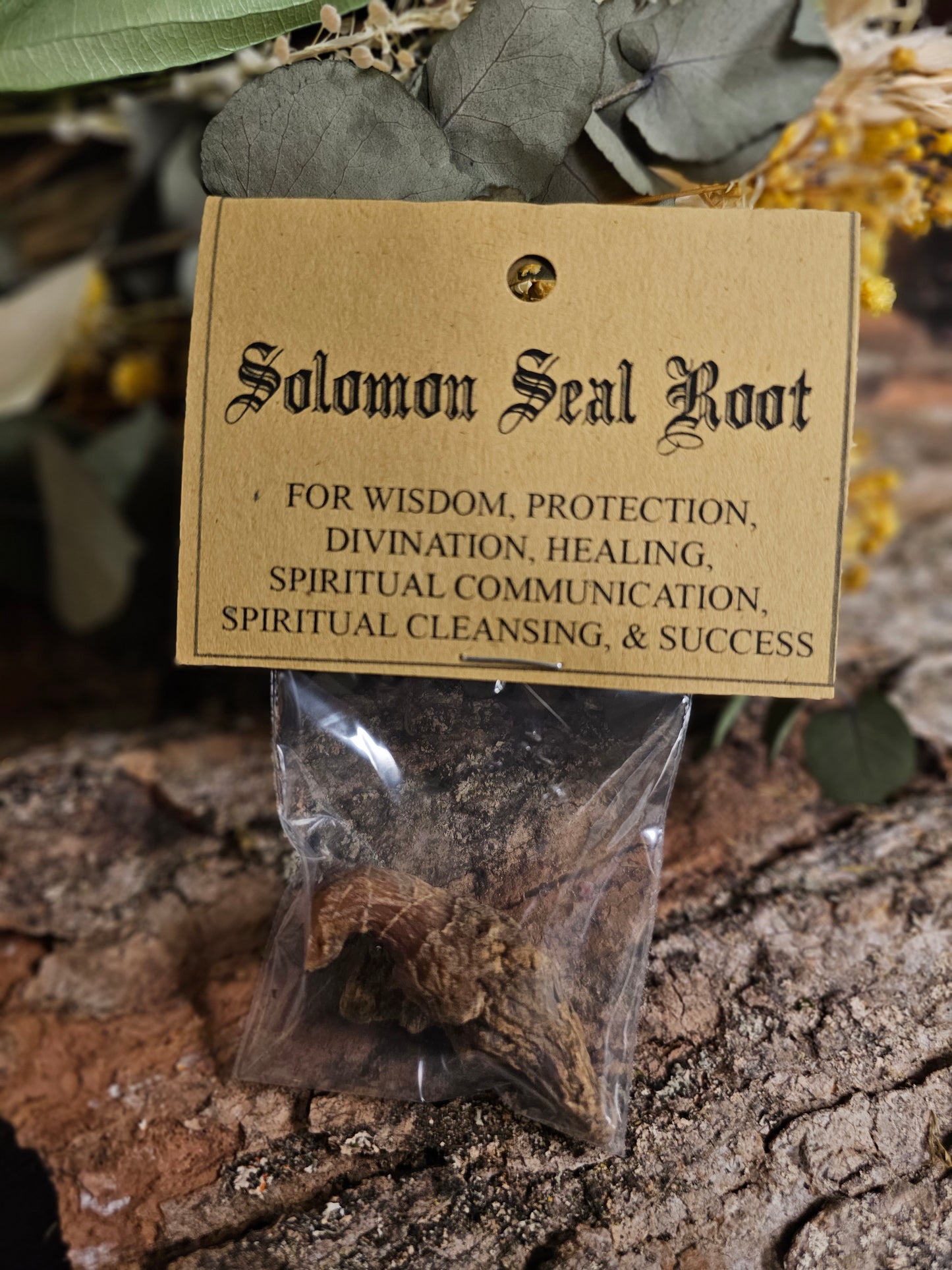 Shipping, Pick-Up, and Local Delivery

Select from affordable carbon-neutral shipping options, local same-day delivery for Woonsocket, RI and Blackstone, MA residents, or select free in-store pickup at our Park Ave location. If you select pickup, an email will be sent to you when your order is ready for pickup. Pickup is available any time during normal business hours.

Make A Difference With Your Order

For every order over $20, we will plant 1 tree through our partnership with Sprout. For every PRIDE product purchase, we will donate 100% of its proceeds to Youth Pride RI, Inc. For every Supports Africa product, we will donate 100% of the proceeds to the children of Kenya through Humanium. For every Wolf Fur purchase, we will donate 50% of proceeds to the Southern Ohio Wolf Sanctuary.
Sprout Total Count Banner Will Appear Here After Save